Pengaruh Akupresur Stroke 14 Titik Terhadap Rentang Gerak Ekstermitas Atas dan Bawah pada Pasien Stroke Non Hemoragik
Reza Indra Wiguna Reza

Universitas Qamarul Huda Badaruddin
Keywords:
Acupressur, Extremity Range of Motion, Hemiparesis, Stroke
Abstract
Decreased limb function is one of the complications that often occurs in non-hemorrhagic stroke patients who experience hemiparesis as a result of limited joint motion in the upper and lower extremities. Acupressure is useful in improving extremity function by increasing the movement of qi (vital energy) flow in the body, but acupressure has never been done by nurses in hospital care rooms as a therapy to prevent and overcome motor function complications in non-hemorrhagic stroke patients. This study aims to identify the effect of acupressure at 14 points on the range of motion of the upper and lower extremities in non-hemorrhagic stroke patients. This study used an experimental design with a pre-post test approach design with a control group of 38 respondents (n control and n intervention = 19). The intervention group was given 14-point stroke acupressure for 15 minutes once a day for 7 days. The results showed that there were differences between the control and control ranges between the intervention group and the control group (p = 0.000). Acupressure at 14 points is an effective intervention to increase the range of motion of the upper and lower extremities in non-hemorrhagic stroke patients who have hemiparesis. The recommendation in this study is that nurses in the stroke center can apply 14-point acupressure as one of the SOPs in the treatment of non-hemorrhagic stroke patients to improve the range of motion in the extremities.
Downloads
Download data is not yet available.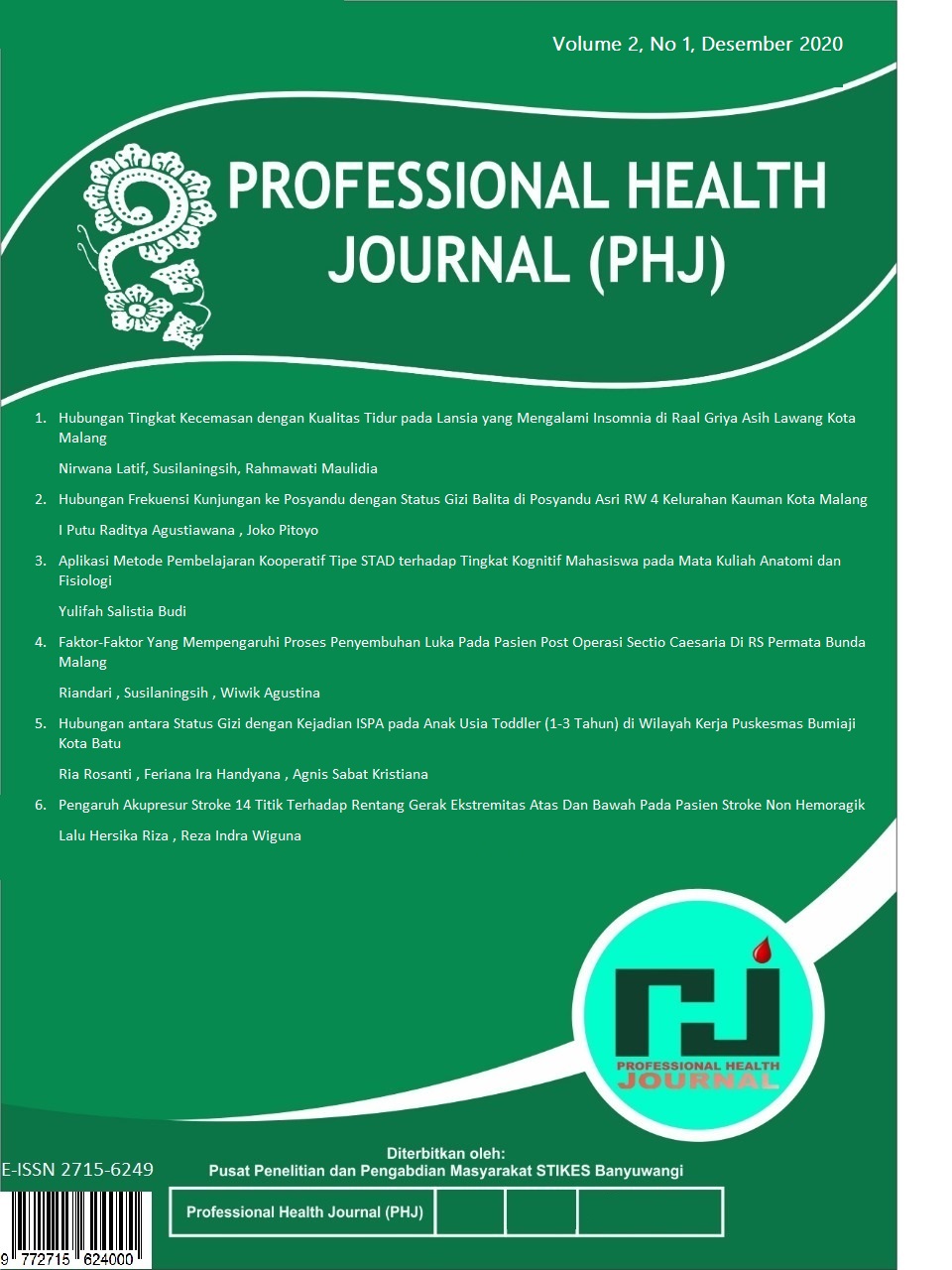 How to Cite
Reza, R. I. W. (2021). Pengaruh Akupresur Stroke 14 Titik Terhadap Rentang Gerak Ekstermitas Atas dan Bawah pada Pasien Stroke Non Hemoragik. PROFESSIONAL HEALTH JOURNAL, 2(1), 144-156. Retrieved from https://www.ojsstikesbanyuwangi.com/index.php/PHJ/article/view/139
Professional Health Journal provides open access to searches so that the information and findings in this article are useful for everyone. All Professional Health Journal article content can be accessed and downloaded free of charge, according to the lisensi creative commons used.

Professional Health Journal is licensed under a Creative Commons Attribution 4.0 International License