Kombinasi Pijat Endorphin dan Auditori Murottal Terhadap Kualitas Nyeri Persalinan Kala I: Literature Review
Kombinasi Pijat Endorphin dan Auditori Murottal Terhadap Kualitas Nyeri Persalinan Kala I: Literature Review
Rudiyanto Rudiyanto

Stikes Banyuwangi

Indah Cristiana

Stikes Banyuwangi

Sintia Taubatul Fitri

Stikes Banyuwangi
Keywords:
Al-Quran Murottal, Endorphin Massage, Stage I Labor Pain.
Abstract
Abstract
Introduction: The process of labor physiologically causes the mother feeling pain. Heavy painful labor that cannot be tolerated by the mother can cause complications in labor. Labor pain can be overcome with non-pharmacological therapy including endorphin massage therapy and Al-Quran Murottal. The purpose of this literature review was to determine the effectiveness of combination of endorphin massage with murottal auditory on stage I labor pain. Method: This study was a literature review by searching articles method using PICOT question on Google Scholar and Garuda Portal database. Searches were limited to full text articles, in Indonesia and English, which were published in 2010-2020 and found 192 articles and were identified and screened.Result: Researcher found 20 articles that in accordance with the inclusion and exclusion criteria. 12 articles used endorphin massage therapy and 8 articles used Al-Quran murottal. The entire journal articles proved that endorphin massage therapy and Al-Quran murottal can affect the quality of stage I labor pain. Conclusion: Endorphin massage and Al-Quran murottal can be used as an alternative therapy for labor pain, so both of them can be collaborated to produce more effective therapy.
Downloads
Download data is not yet available.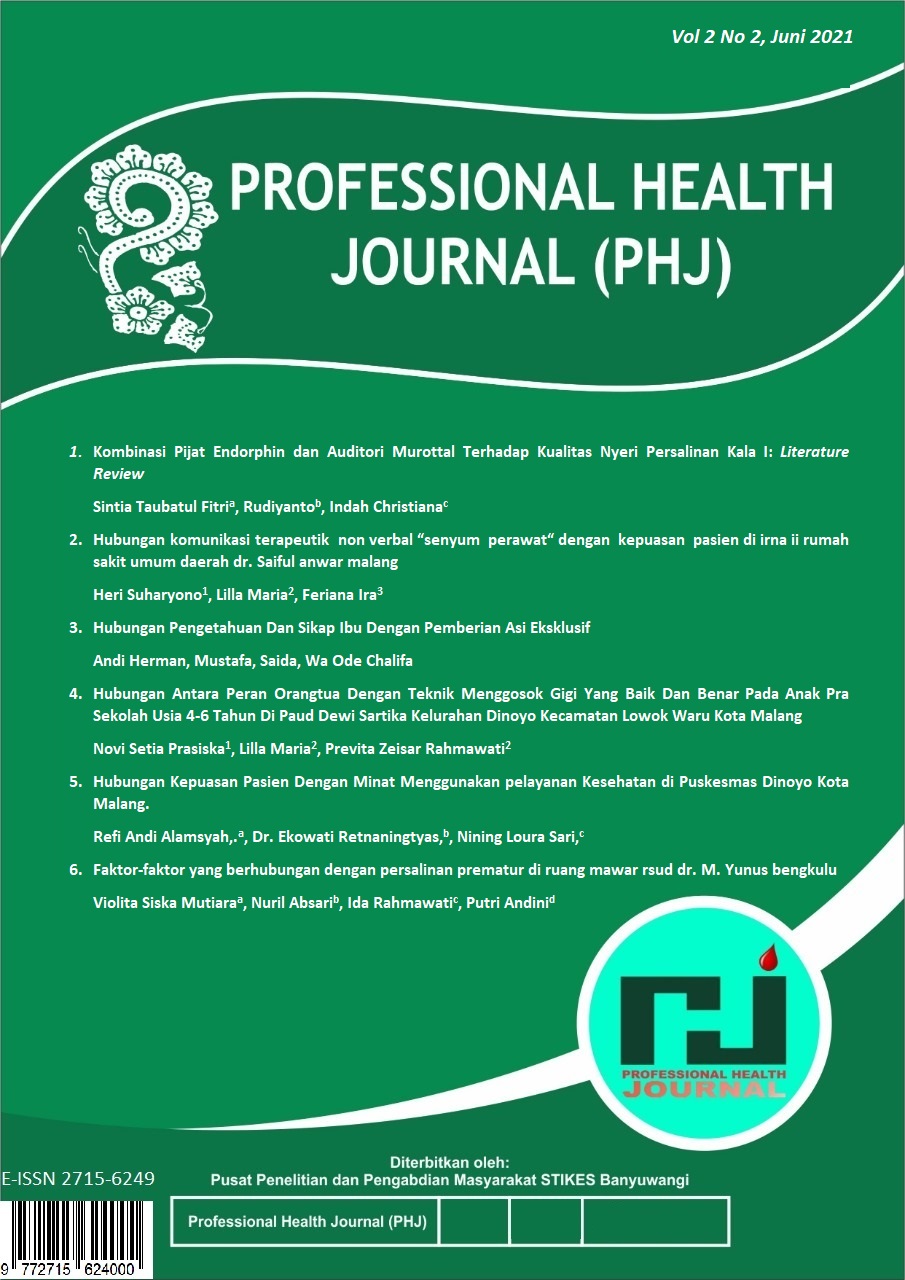 How to Cite
Rudiyanto, R., Cristiana, I., & Taubatul Fitri, S. (2021). Kombinasi Pijat Endorphin dan Auditori Murottal Terhadap Kualitas Nyeri Persalinan Kala I: Literature Review. PROFESSIONAL HEALTH JOURNAL, 2(2), 64-74. https://doi.org/10.54832/phj.v2i2.153
Copyright (c) 2021 rudiyanto bin wasis
This work is licensed under a Creative Commons Attribution-ShareAlike 4.0 International License.