The effect of progressive muscle relaxation interventions on depression, stress, anxiety, and quality of life for cancer patients: a systematic review
Sholihin Yusuf

Stikes Banyuwangi, Banyuwangi, East Java, Indonesia

Tria Anisa Firmanti

Stikes Banyuwangi, Banyuwangi, East Java, Indonesia

Muhammad Nashir

Stikes Banyuwangi, Banyuwangi, East Java, Indonesia

Roudlotun Nurul Laili

Stikes Banyuwangi, Banyuwangi, East Java, Indonesia
Keywords:
depression, stress, anxiety, quality of life, progressive muscle relaxation
Abstract
Patients with cancer experience emotional distress which characterized by psychological symptoms such as anxiety or depression, psychological symptoms that arise and complex cancer processes have negative impact on their quality of life. Many cancer patients use a wide variety of techniques to improve their psychological symptoms and quality of life including relaxation therapy and specifically, Progressive Muscle Relaxation (PMR). The systematic review purpose was to review the evidence regarding the use of PMR intervention for cancer patients. Thirty four published studies and nine identified original article as potentially relevant , undertaken in the past six years until now (2013 to 2019) with data bases in Scopus, Proquest, Google Scholar, Oxford, and Science direct Searches. The information flow chart from record identification to study inclusion was conducted in accordance with the PRISMA and extracted data with PICOT. The impact of progressive muscle relaxation interventions remained in effect for between seven days and six month after the interventions.. Progressive muscle relaxation intervention is the technique including continous and systematic stretching and relaxing of the muscles until the whole body becomes relaxed. It has effects in improving depression, stress, anxiety and quality of life via physical relaxation.
Downloads
Download data is not yet available.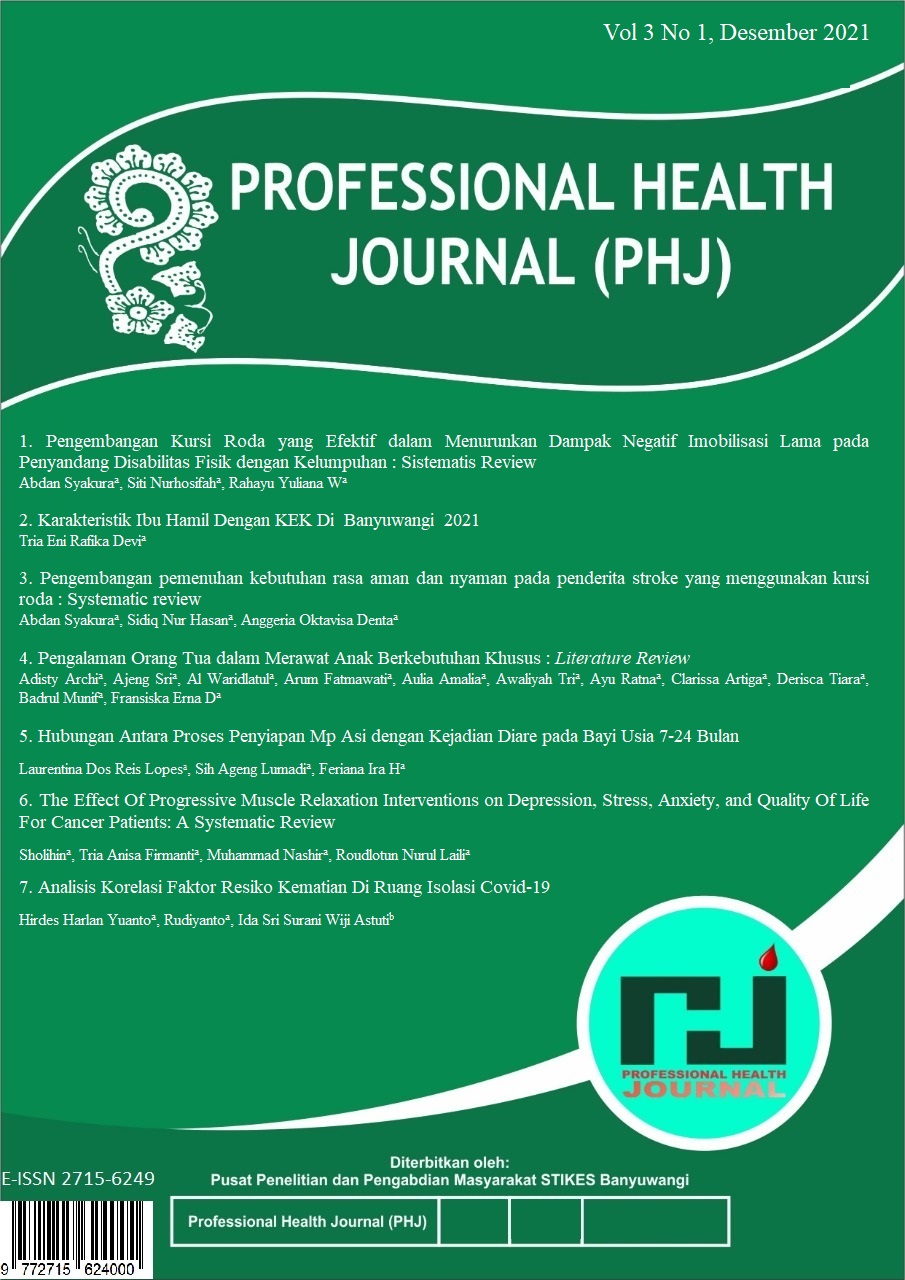 How to Cite
Yusuf, S., Anisa Firmanti, T., Nashir, M., & Nurul Laili, R. (2021). The effect of progressive muscle relaxation interventions on depression, stress, anxiety, and quality of life for cancer patients: a systematic review. PROFESSIONAL HEALTH JOURNAL, 3(1), 34-42. https://doi.org/10.54832/phj.v3i1.97
Copyright (c) 2021 Sholihin Yusuf
This work is licensed under a Creative Commons Attribution-ShareAlike 4.0 International License.